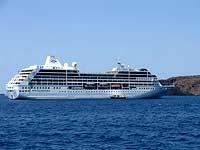 Update: A fire broke out late Friday in an engine room on the luxury cruise ship, MV Azamara Quest, while en route from Manila to Sandakan in Sabah, Malaysia.  Five members of the crew were injured, suffering smoke inhallation. One crew member is reported to be seriously injured.  No one among the 590 passengers was reported to be hurt. The ship has a crew of 411.  After a blackout during the fire, the ship had been drifting approximately 70 nautical miles from Tubbataha, in the Philippines, in calm seas.
The ship's crew has been able to restore partial power for propulsion and to  "re-establish air conditioning, running water, plumbing, refrigeration and food preparation onboard for the comfort of our guests and crew," according to a statement from the company.  The ship is now reported to be underway, "moving slowly toward Sandakan," its next port of call in Malaysia.
MV Azamara Quest is owned by Azamara Club Cruises, a subsidiary of Royal Caribbean Cruise Lines,  the world's second-largest cruise line operator, after Carnival.  The Azamara Quest was on a 17-night voyage that departed Hong Kong, China, on Monday, March 26, and included port calls to Manila, Philippines; Sandakan (Sabah), Malaysia; Palapo (Sulawesi), Benoa (Bali), Semarang and Komodo, Indonesia and was meant to conclude in Singapore on Thursday, April 12.  As a result of the fire, the rest of the ship's voyage has been cancelled.