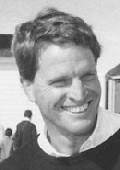 Sad news. George H. Moffett Jr., the captain of the Mystic Seaport Museum schooner Brilliant for 25 years, has died of melanoma at his home in Connecticut. He was 66.
Moffett was from a naval family. His grandfather, Admiral William A. Moffett, was known as the "father of naval aviation."  George Moffett  studied engineering at  the Naval Academy during the Vietnam War, but questioned the morality of the conflict and transferred out. He would later earn a Master's in Divinity from the University of Berlin and before moving back to the United States, would become headmaster of a small boarding school on the south coast of England.
From his obituary in the Day.com:  In 1981, George found a position that allowed him to combine his love of sailing and background in education on the schooner Brilliant at Mystic Seaport. During the 25 years that he served as her captain, he introduced over 3,000 teenagers and adults to sea as part of the museum's sail-education program. The job turned out to be a perfect match: as a teacher and mentor, he inspired self-discovery and courage by motivating his crew members to challenge themselves, persevere in hardship and never do things halfway. As an engineer, artist, and steward, he maintained the classic vessel to perfection. As a preservationist and communicator, he garnered appreciation for the yacht's mission and craftsmanship and raised an endowment to make its operations sustainable. As a wanderer and tactician, he took the boat to ever further waters and won races on the New England Coast and to Bermuda. Most notably, he raced Brilliant across the Atlantic from Halifax to Amsterdam in Tall Ships 2000 and won first in class and first overall.
George H. Moffett Jr

George resigned from the Seaport in 2007 to pursue his terrestrial passion for motorcycling and explore the U.S. With friends, he rode a classic BMW motorcycle across country from British Colombia eastward. He was soon lured back to sea, however, by the opportunity to skipper the Fife ketch, Belle Aventure, until his retirement in 2009.
In the months before his death, George was honored to receive a Lifetime Achievement Award from Tall Ships America and the William P. Stephens Award from the Mystic Seaport in recognition of an enduring contribution to the history, progress, and appreciation of American yachting.
George was driven by a longing for understanding and knowledge that never left him. He was provoking, persistent, compassionate, witty, and eloquent. He appreciated simple beauty, made a life-long impression on many, and made life more fun for all around him.
In addition to his wife, he is survived his sister, Elizabeth; by his daughter, Jessica and her husband, Thomas.
Donations may be made in his name to the Brilliant program at Mystic Seaport, PO Box 6000, Mystic, CT 06355.
Thanks to Captain Richard Bailey for passing along the sad news.