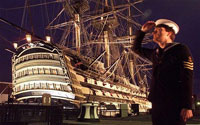 The British Ministry of Defense (MoD) is giving Admiral Lord Nelson's flagship at the Battle of Trafalgar,  HMS Victory to the National Museum of the Royal Navy (NMRN) in Portsmouth.  The ship would stay a commissioned warship and thus will be able to retain bragging rights as the "oldest commissioned naval vessel in the world."  The motivation appears to be primarily financial. As a gift to the museum, the ship and its new owner could benefit from charitable donations and lottery funding instead of being maintained using MoD funds.
HMS Victory 'gifted to navy museum'

An MoD source is quoted as saying, "NMRN will run the ship but it's an organisation that is sympathetic. It's professional and there's a lot of expertise there. Handing over to such an organisation will mean nothing untoward will happen. 
"Also, under the agreement we have with the NMRN, we will still retain a degree of control and there will still be a navy deck crew serving onboard. To visitors, it will appear like nothing has changed."
Several newspapers have voiced concerns over the transfer. The Sun ran the headline: Skint Navy surrenders Nelson's HMS Victory with the subtitle: THE Royal Navy is to hand over Nelson's HMS Victory to a museum — amid fears it will be used to host corporate events.  They quote former Former First Sea Lord, Lord West, as saying, "It is inevitable she will be used for corporate events — but if we have to go this route to prevent her turning into a wreck, so be it."
The Mail expresses similar concerns, with a bit more drama : England expects every man to get trashed! Lord Nelson's HMS Victory set to become a party boat because MoD cannot afford £16m repair bill
Now, Lord Nelson's flagship HMS Victory could be turned into a party venue as Ministry of Defence bosses plan to donate it to charity – because they cannot afford a £16million repair bill for the historic vessel….  It is feared the 104-gun vessel, which retired in 1812 and is kept at Portsmouth Dockyard, Hampshire, will be hired out for private hospitality functions and parties.
A Royal Navy source said: 'This is unacceptable. This historic ship should be kept by the Navy and honoured for what it did to this country.
'It is an outrage and this should not happen. If Lord Nelson knew what his prized ship was being turned into, he would turn in his grave.'
Thanks to Alaric Bond for passing along the news.