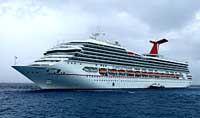 Update:  The MS Carnival Triumph was allowed to sail as scheduled following last minute negotiations.
The 2,758-passenger cruise ship MS Carnival Triumph was supposed to sail today for a five-day cruise to Yucatan and Cozumel. Instead, a Texas judge has ordered the ship held in Galveston as part a $10 million lawsuit filed by the family of a German tourist who died aboard the Costa Concordia.  Carnival Corporation, the world's largest cruise operator, owns Costa Lines, the owner of the  Costa Concordia.
"The court finds that the conditions for an attachment of defendants' joint and collective property within this district, mainly the MS Carnival Triumph, appear to exist upon an admiralty and maritime claim," U.S. Magistrate Judge John Froeschner of Galveston said in the warrant.
Carnival officials are meeting with attorneys this morning to determine what can be done to allow the ship to sail as scheduled.
Carnival Cruise Ship Ordered Held in Texas in Shipwreck Suit