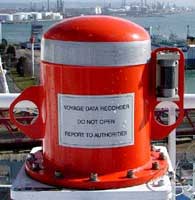 What really happened on the Costa Concordia in the final hours leading up to and following her grounding and sinking off Giglio on January 13, 2012?  The first step in definitively answering that question began in early March when an Italian judge directed court appointed experts to examine the ship's voyage data recorder, the so called "black box."  The examination is expected to take 90 days, so the first results will be presented to the court sometime in early May.
But exactly what is the "black box" taken off the Costa Concordia?  

Since 2002,  passenger ships and other ships of 3000 gross tonnage and upwards constructed on or after 1 July 2002 must carry voyage data recorders (VDRs.)  The VDRs are similar to the flight data recorders, often called "black boxes," on airlines which record data to aid in accident investigations.  Like the airline flight data recorders, the VDRs are never black, despite the common reference to them as "black boxes."  The VDRs are mounted in protective storage unit that are usually orange. The VDR is designed record the last 12 hours of data and to be tamper-proof and capable of withstanding extreme shock, impact, pressure and heat. The VDR may either be retrievable or a free floating unit. Data collected by the VDRs may include:
Position, date, time using GPS.
Speed log – Speed through water or speed over ground.
Gyro compass – Heading.
Radar – As displayed or AIS data if no off-the-shelf converter available for the Radar video.
Audio from the bridge, including bridge wings.
VHF radio communications.
Echo sounder – Depth under keel.
Main alarms – All IMO mandatory alarms.
Hull openings – Status of hull doors as indicated on the bridge.
Watertight & fire doors status as indicated on the bridge.
Hull stress – Accelerations and hull stresses.
Rudder – Order and feedback response.
Engine/Propeller – Order and feedback response.
Thrusters – Status, direction, amount of thrust % or RPM.
Anemometer and weather vane – Wind speed and direction
After so much speculation on what happened on the night Costa Concordia ran aground and sank, the ship's VDR should finally provide reliable data as to what really transpired.