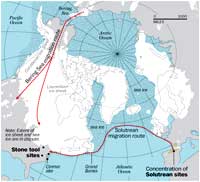 For most, a river or an ocean is a boundary. For a sailor, each is a highway.  But, when did the first sailor set out across the water? Recent research suggests that the early man may have gone to sea, and indeed, crossed oceans, much earlier than previously thought.  European Solutreans may have crossed the Atlantic over 20,000 years ago, while Neanderthals may have been crisscrossing the Mediterranean by boat over 100,000 years in the past.  The earliest record of human, or near human, ocean voyaging may be the arrival of Homo floresiensis, nicknamed the 'hobbits'  on the island of Flores in Indonesia around 1,000,000 years ago.

Since around 1930, the dominant theory has been that early man traveled to North America over a Bering Sea land bridge from Asia around 13,000 – 15,000 years ago. Now artifacts discovered on the East Coast of the United States suggest that ancient sailors crossed the Atlantic from Europe more than 5,000 years earlier.  Smithsonian Institute anthropologist Dennis Stanford, author of Across Atlantic Ice: The Origin of America's Clovis Culture, argues that a Stone Age European people known as the Solutreans paddled along an ice cap jutting into the North Atlantic at the height of the last ice age.
Radical theory of first Americans places Stone Age Europeans in Delmarva 20,000 years ago
The Solutreans eventually spread across North America, Stanford says, hauling their distinctive blades with them and giving birth to the later Clovis culture, which emerged some 13,000 years ago.
At the core of Stanford's case are stone tools recovered from five mid-Atlantic sites. Two sites lie on Chesapeake Bay islands, suggesting that the Solutreans settled Delmarva early on. Smithsonian research associate Darrin Lowery found blades, anvils and other tools found stuck in soil at least 20,000 years old.
While not crossers of oceans, a recent article in New Scientist magazine argues that Neanderthals were ancient mariners, as well.  Their distinctive "Mousterian" stone tools are found on the Greek mainland have also been found on the Greek islands of Lefkada, Kefalonia and Zakynthos.  As these islands were only accessible by water during the period that tools were made, the Neanderthals could only have traveled by boat.  This builds upon earlier discoveries that we posted about in February of 2010 – On Crete, New Evidence of Very Ancient Mariners.
Some of the earliest evidence of primitive sailors may be on on the island of Flores, Indonesia.  Evidence suggests that a very small early hominid, Homo floresiensis, nicknamed the "hobbits" because of their small stature arrived on the island one million years ago and finally died out 17,000 years ago. The only way to reach the island was by water.  It may turn out that some of the earliest sailors were also the smallest.
Did 'Hobbit' ancestor get to Flores 1 million years ago? 
Thanks to Roger Moore on the All things nautical Facebook group for pointing out the New Scientist article.