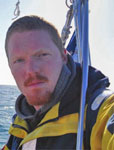 After a difficult last few days, Matt Rutherford sailed into Chesapeake Bay this morning at 10:42 AM, completing the first ever solo circumnavigation of the Americas, a voyage of 309 days and over 25,000 miles.  Matt's plan is still to make his first landfall this Saturday the 21st of April at noon in Annapolis. All are invited to help welcome him home.
Sailor finishes 309-day trip at Bay bridge-tunnel

"It's good to be done," he said via cell phone, as he steered his 27-foot sailboat through rough water at the mouth of the Bay around 11 a.m.
The finish came after a frustrating day on Tuesday. Current mixed with light northwest winds drove him backwards along the Virginia Beach coastline. The wind finally picked up around 3 a.m. Wednesday morning, giving him the push he needed to cross the line.
Thanks to Court Blatchford for passing along the news.