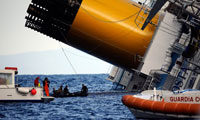 In February, Costa Lines invited ten companies to bid on salvaging the Costa Concordia (see our previous post.)   Today, the salvage contract was awarded to Titan Salvage and Micoperi.  Titan Salvage is a unit of Crowley Maritime Corporation and Micoperi is a Italian marine contractor specializing in underwater construction and engineering. The wreck of the Costa Concordia will be removed in one piece. The operation is expected to take roughly a year.
Titan-Micoperi to remove Costa Concordia in 12-month operation

Earlier this week, five more bodies from the Costa Concordia were identified, including the only Americans lost in the sinking, Barbara and Gerald Heil of White Bear Lake, Minnesota.   Also identified were Christina Mathi Ganz and Norbert Josef Ganz of Muehlheim am Main of Germany, who had just celebrated their golden wedding anniversary.  The body of Giuseppe Girolamo, a member of the ship's crew, was also identified.
2 US, 2 German Costa Concordia Victims Identified 
How the Costa Concordia tragedy will impact tourism on the island of Giglio is still unclear.  Initial reports say that early bookings for lodging are down by 20%. On the hand, day trips to the island are up considerably.   Tourism is the primary industry on the island off the coast of Tuscany in the Tyrrhenian Sea.   Last year, the island, attracted 23,000 visitors.
A Shipwreck Cuts Two Ways for an Island's Lifeblood
Thanks to Tony Seideman and Phil Leon for contributing to this post.