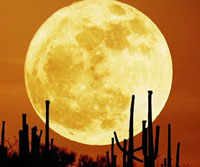 This Saturday, we will witness a perigee full moon, often called by the press, a "supermoon."   The full moon at its perigee, or closest approach to earth, will appear 16% bigger and will exert 42% more tidal force than a more typical full moon.  Usually these "perigean tides" are only an inch or so higher or lower than normal.  Local tidal conditions can amplify the effect, which is still usually no more than a 6″ change in high or low tide.
Biggest Full Moon of the year due this weekend as 'supermoon' raises tides around the planet

This has not stopped some from blaming the "supermoon" for a variety of misfortunes. In March of 2011, after the last "supermoon,"  the captains of five ships blamed the moon for running aground.  Others blamed the moon for the  Japanese tsunami, eleven days before the super full moon.  Astronomers and geologists dismissed these claims, however.  See: "Super Moon" Blamed for Five Groundings.
This year, a month before the 100th anniversary of the sinking of the Titanic, an astronomer at Texas State University speculated that a "supermoon"  in 1912 might have contributed to the sinking of the ocean liner.  It made for good headlines, if not necessarily good science.   See: Titanic and the "Supermoon" – Did the Moon Sink the Titanic? The Answer is No.
So, enjoy the slightly brighter moon this weekend.  And if anything untoward comes to pass you can always blame it on the moonshine.