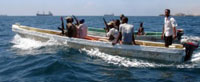 In March, the European Union Naval Force was authorized to attack Somali pirates in coastal waters and ashore. On Tuesday, EU naval forces and attack helicopters launched their first onshore raid on a suspected pirate supply center in Handulle village, about 18 kilometers (11 miles) north of Haradheere town, a key pirate lair.
In related news, a private fleet of 18 armed patrol boats is being outfitted to protect ships transiting the Gulf of Aden from from pirate attack.  The fleet will be operated by the Convoy Escort Programme (CEP), a British company launched by the international shipping insurers Jardine Lloyd Thompson (JLT) and the Lloyds of London underwriters Ascot.  This "private navy" cost around US$ 70 million to set up and will be based in Djibouti. The patrol boats will convoy ships along the Internationally Recognised Transit Corridor (IRTC).

Somali Pirate: EU Airstrike Destroyed Equipment
Bile Hussein, a pirate commander, said the attack along Somalia's central coastline destroyed speed boats, fuel depots and an arms store.
"They destroyed our equipment to ashes. It was a key supplies center for us," Hussein said. "The fuel contributed to the flames and destruction. Nothing was spared."
He said nine speed boats were destroyed, and that three of them were on standby for hijackings. 
Attack helicopters took part in the attacks early in the morning on the mainland, an EU spokesman said.
Private navy planned to counter pirate raids
Piracy in the region is costing the global economy an estimated US$7 billion a year. For the ship owners alone, every vessel sailing through the waters off Somalia is charged additional insurance premiums of between $50,000 and $80,000.
Ships opting to carry their own armed guards can be charged an additional $18,000 and $60,000 per voyage by security companies.
Although the European Union is spending more than €8m (Dh37.94m) a year to maintain a naval force in the waters – EU NavFor – its warships still cannot provide close support to all merchant vessels.
The CEP, however, offers substantial savings to owners as well as protection from pirate attack. The CEP will buy insurance and use that to cover the ships in its convoys, so owners will no longer need to pay premiums, or hire security.
Instead, they will just pay a flat $30,000 to $40,000 per ship in the convoy.
Thanks to Phil Leon for contributing to this post.