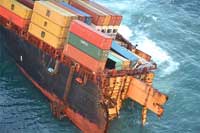 On October 5, 2011, the containership MV Rena ran aground on Astrolabe Reef off Tauranga, resulting in one of the worst maritime environmental disasters in New Zealand history.  Yesterday, in a New Zealand court, the captain, Mauro Balomaga, and second officer, Leonil Relon, were found guilty of a total of eleven charges and each was sentenced to seven months in jail.   In addition to poor seamanship, the captain and second officer attempted to cover up their actions by altering the ship's GPS log, its passage plan and its computer records to mislead the investigators.
Rena: The cover-up revealed

At the sentencing hearing, it was revealed that Balomaga arranged for corners to be cut between Napier and Tauranga to fulfil what was described as an "obsession" with reaching the port by 3am.
After sailing perilously close to other coastal landmarks, including Hawkes Bay's Bull Rocks, the ship slammed into Astrolabe Reef on October 5 last year.
Yesterday, Crown Solicitor Rob Ronayne, in describing the disaster, spoke of "systemic failures", "fundamental errors" and a "gross level of incompetence" that came "close to amounting to recklessness".
As the Astrolabe Reef came within 5.5km of the ship, it showed up as an echo on the radar.  Balomaga dismissed it as a small vessel or a radar cluster.
A crewman recorded by the ship's black box reacted as the ship hit the reef, tearing away 60m of its keel: "What was that? Put it on manual. Shit, shit, chief, chief, what happened?"
Shortly after, Balomaga discovered that the ship's position at 2am had been noted in the GPS logbook but not plotted on the chart.
The reef would have been obvious to him if this had been done.
Realising how this would look, he instructed Relon to plot a false GPS position so it looked as though the ship was sailing clear of the reef.
Balomaga also instructed Relon to create a false passage plan and to destroy the original document.
Thanks to Alaric Bond for contributing to the post.