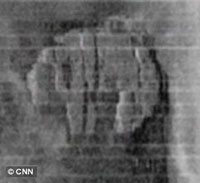 Last June, while doing sonar sweeps of the bottom of the Baltic Sea, the Swedish treasure hunters, Ocean X Team, saw something that they did not understand.  It appeared to be a 197 feet diameter disk-shaped object at the depth of approximately 275 feet.   The shape reminded many of the Russian round-ironclad battleship Novgorod.  The Novgorod, however, was only 1/3 the diameter of the object spotted on sonar.   When the sonar images were released, the press  began  speculating about everything from UFOs to Russian spacecraft.  Comparisons were immediately made to the shape of the Millennium Falcon spaceship from the movie Star Wars.
Recently the Ocean X Team sent down divers to examine the object.  The results of the dive have only deepened the deep-water mystery.
Experts baffled after first dive to Baltic 'shipwreck'

The Swedish expedition Ocean X Team made the 85-metre dive in hopes of debunking the many theories that surround the mysterious formation. 
What they discovered only provides further mystery: 60 metres across, the object has rounded sides and rugged edges.
A trail over 300 metres long leads up to the object, and divers have described the stretch as a "runway" of some sort, which may indicate that the object skidded before stopping.
The mystery object is raised several metres above the seabed, with sides that curve in, in the shape of a mushroom.
"First we thought this was only stone, but this is something else," said diver Peter Lundberg in a statement.
At the object's centre was an egg-shaped hole, surrounded by strange rock formations they describe as similar to "small fireplaces" covered in something bearing likeness to soot.
So, is the object a "space ship" or just a large rock dragged across by a glacier in the last ice age?  Further investigation may tell the tale.