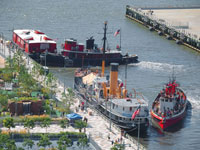 If you are anywhere near New York City next week, the Fourth Annual North River Historic Ship Festival looks like lots of fun.  Hosted by the North River Historic Ship Society, the festival commences Thursday night, June 28th, with an opening party on the the historic railroad barge Lehigh Valley No 79  at Pier 25 on the Hudson  to honor two "Historic Ship Champions" – Norman Brouwer and Lee Gruzen.  Norman Brouwer is a maritime historian, lecturer and author of The International Register of Historic Ships, and former librarian, archivist and curator of ships at South Street Seaport Museum.  Lee Gruzen is an author and harbor advocate, program director of the New York Ship Lore and Model Club, and co-creator of Seaport Speaks.  Tickets are still available here.

On Friday June 29th, from 3-6 PM, and on Saturday from 12-5 PM, there will be free dockside tours of the Lehigh Valley Railroad Barge No.79,  the 105 year old tug Pegasus, and  173-foot former Coast Guard Lighthouse Tender Lilac.   Also on Saturday from 12 – 3 p.m. there will be free 45-minute educational trips on the Hudson River, the aboard the fireboat John J. Harvey and tugboat Pegasus.  Space is limited, so reservations are recommended.  Click here to learn more and to make a reservation.
At 8PM Saturday night, "Aquarium from Austronesia" on the steamship Lilac will feature illuminated sculptures, video and sound installations, live art programming, and musical performances.
On Sunday, July 1, the Showboat Circus will perform at 1 and 4 PM on the Lehigh Valley No 79.  On the 98-year-old covered wooden barge, the circus will feature physical comedienne Hilary Chaplain; juggler extraordinaire Will Shaw, (who was featured on the Letterman and Jon Stewart shows;) Sophie Sharps, the captain's daughter, on trapeze; and showboat captain David Sharps doing Chinese vase manipulation.  Click here to learn more and to purchase tickets.