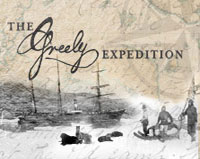 Thanks to Anne Maclachlan and the Naval History & Heritage Command for pointing out on Facebook, a forgotten bit of history – the ill-fated Greely Expedition, which was rescued at Cape Sable on Ellesmere Island on June 22, 1884.
In 1881, First Lieutenant Adolphus Washington Greely of the US Army lead the International Polar Expedition, also known as the Lady Franklin Bay Expedition,  The expedition intended to collect astronomical and polar magnetic data and to establish a new record for the distance traveled north.  The 24 man expedition was delivered to Lady Franklin Bay, an inlet into the northeastern shore of Ellesmere Island on the Nares Strait, by the ship Proteus. They arrived during an exceptionally warm summer and underestimated the difficulty of being resupplied.

After two summers in which the resupply ships failed to get through the ice, the expedition abandoned their camp on Lady Franklin Bay and moved by boat and on a drifting ice pack to Cape Sabine.  When the US rescue ships, Bear, Thetis, and the British ships Alert, and Loch Garry finally arrived on June 22, 1884, only six of the 24 men survived the third winter.
PBS's American Experience series produced an excellent documentary of about the Greely Expedition.
Watch The Greely Expedition on PBS. See more from American Experience.