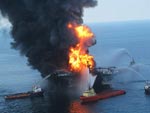 Two recent reports look at the actions and inaction of BP and its contractor Transocean before the Deepwater Horizon explosion and the consequences of the resulting spill on the environment.  The explosion on the drilling rig Deepwater Horizon killed 11 and injured 17 and resulted in the largest accidental marine oil spill in the history.   A report issued Tuesday by the Chemical Safety Board faulted BP and Transocean for failing to focus on the larger issues of safety and serious accident prevention. The report found that many of the the same failures in safety analysis and planning which lead to a 2005 explosion at a BP Texas City oil refinery, killing 15 employees, contributed to the Deepwater Horzion catastrophe.
BP, Transocean faulted over preventive efforts in gulf spill
The 2010 Deepwater Horizon disaster spilled roughly 4.5 million barrels of crude oil into the Gulf of Mexico. The environmental impact is only beginning to be understood.   A recent study suggests that the oil spill along with unusually cold water has contributed to an unusually high death rate for dolphins in the Gulf of Mexico.
BP spill, cold water tied to dolphin deaths, study finds 

Between January and April 2011, 186 dead bottlenose dolphins washed ashore between Louisiana and western Florida. Most alarmingly, nearly half of these casualties were calves, which is more than double the usual proportion of young to old dolphins found dead. Scientists now blame both natural factors and human catastrophe for the unusual die-off.
"Unfortunately, it was a 'perfect storm' that led to the dolphin deaths," study researcher Graham Worthy, a biologist at the University of Central Florida, said in a statement. "The oil spill and cold water of 2010 had already put significant stress on their food resources. … It appears the high volumes of cold freshwater coming from snowmelt water that pushed through Mobile Bay and Mississippi Sound in 2011 was the final blow."
Thanks to Phil Leon for contributing to this post.