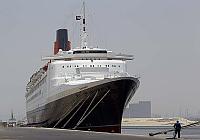 For several years now cruise ships fans have been concerned that the 2008 debt crunch in Dubai would result in the RMS Queen Elizabeth 2 being sold for scrap instead of being converted to a luxury hotel, as had been the plan when she was purchased  by Dubai investment company Istithmar for $100 million.  On Monday, it was announced that the ship would be converted to a more modest 300 room hotel.  Originally a 1,000 room facility had been planned. The ship will also not be moored at Nakheel's Palm Jumeirah, the emirate's famous palm-shaped island, but instead would be tied up  at the Port Rashid cruise terminal in a commercial district a considerable distance from the more tourist-friendly neighbourhoods.  For classic cruise ship fans, the good news is that large portion of the ship will remain unrenovated.
Dubai unveils more modest plans for QE2 hotel

"Unfortunately we had many ambitious plans but they didn't work," said Sultan Ahmed bin Sulayem, chairman of Istithmar – the unit that bought the vessel for $100 million in 2007 – and the chairman of port operator DP World.
"What we are doing now we should have done when we got it," he said.
The common areas, like the restaurants and entertainment areas, would be largely left as they are, he added.
The QE2 ocean liner is currently moored in Port Rashid in Dubai – a gritty commercial port a long way from the tourist-friendly neighbourhood of Palm Jumeirah – and will stay where she is, said Sulayem.
"There have been many grand ideas. There were plans of renovating it in such a way that it becomes something totally different than what it used to be. But we realized soon that a lot of people like the ship as it was," he said.