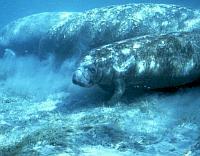 Drivers on the Courtney Campbell Causeway began calling the authorities to report manatees in trouble.  There appeared to be around ten manatees on a sandbar not far from the causeway that connects Tampa and Clearwater, Florida. Drivers stopped their cars and pulled over to get a better look.  Police called the Clearwater Marine Aquarium and their experts said the mammals were not in distress. They were mating.  As the crowd of onlookers grew, police officers cordoned off the waterline with crime scene tape to give the manatees some privacy.  This is not the first time that mating manatees have stopped traffic on the causeway.  In 2004, an estimated 500 onlookers tied up traffic as a group of manatees frolicked just offshore in 2 to 3 feet of water.   Video of the manatees after the break.
Mating manatees cause a stir on Courtney Campbell in Clearwater

Florida manatees are herbivorous marine mammals and a sub-species of the West Indian manatee.  They are endangered as there are fewer than 2,500 mature individuals and their population is declining due to loss of habit and increased boat traffic.  Manatees are part of the biological order Sirenia, as the are often associated with mermaids and the sirens of Greek mythology.