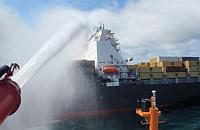 Updates to two sets of recent posts:  After considerable delay the container ship  MSC Flaminia is being allowed into a port of refuge.  Authorities have granted permission for the German flagged ship to be towed into German waters. Following a safety inspection the ship will be allowed to dock in a German port.   MSC Flaminia suffered an explosion and fire on July 15th while in the mid-Atlantic. One crew member was killed and another is missing and presumed dead.  After the fire was brought under control and the ship taken under tow, European maritime authorities have benn slow in granting approval for the ship to enter territorial waters.
Stricken Container Ship to Shelter in German Waters
On August 8th, a fire broke out on the France Telecom-Orange cable laying ship, Chamarel, in the Atlantic Ocean off Namibia's Skeleton Coast in the Atlantic Ocean. The crew of 56 abandoned ship after attempts at firefighting failed to control the blaze. France Telecom-Orange has announced that the salvage of the ship is now underway.  Chamarel is currently agound on sand banks 30 km from Henties Bay in Namibia.
Namibia: France Telecom-Orange – Salvage Operation Underway – Risk of Pollution Under Control