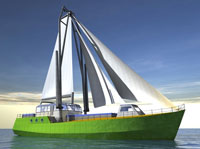 The Greenheart Project is now raising money to build a 32 meter sailing cargo ship for small ports and lesser developed countries. The design is extremely impressive. It is low-cost,  has zero-emissions and is also efficient to load and unload.  Cargo operations may seem a touch prosaic as compared to sails and sailing, but the truth is if you can't load and unload a ship quickly and efficiently, it is very difficult to make the economics work.
The Greenheart design features a stern cargo ramp to allow ro/ro operations, as well as hatch covers for lift-on/lift-off loading.  The ship's mast is also articulating, so it can be used as a cargo crane or lowered to allow access under fixed bridges. The hold is large and rectangular and the ship can carry up to three 20′ containers. It is unlikely that the ship will be carrying many containers but the hold layout provides tremendous flexibility in the range of cargoes that can be carried. The twin skeg hull design also allows the ship to have a shallow draft and can be beached for operations in areas without port facilities.   A very interesting and innovation design.
Greenheart is now ready to take the next step. They estimate that it will cost roughly $500,000 to build and outfit the prototype ship.  They are working with a shipyard in Bangladesh, and have raised money from volunteers and corporate sponsors. They are now attempting to raise $120,000 through "crowdsourcing" to help put them over the top in getting the steel hull work done.