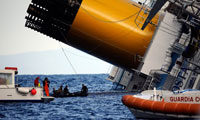 The press release says that the Lloyd's List Global Awards are "a celebration of the best that shipping industry has to offer and the finalists are the innovators and the visionaries. They are the boldest and the brightest. They are shipping's success stories."   Unfortunately, one award granted on Wednesday night in London detracted and distracted from the awards in the various categories which were indeed awarded to "shipping's success stories."   In what appears to be an understandable attempt to retroactively find heroism in tragedy, the Lloyd's List 2012 Award for "Seafarer of the Year" was awarded to the crew of the Costa Concordia.  
Lloyd's justifies this odd choice by noting that there were "genuine examples of bravery and professionalism displayed by members of the crew."  They go on to note that "without the skilled response of the majority of the crew, the loss of life could have been far higher."   Both statements are true, as far as they go. The problem is that this blanket praise of the crew's actions ignores and obscures actions by some crew members which made the situation worse and may have cost, rather than saved lives.  Shortly after the tragic grounding, we posted a video which surfaced of a staff member saying that everything was under control, that the problem was a generator failure and that passengers should return to their cabins. Indeed, a recent 270 page report issued by a team of court appointed experts on the Costa Concordia sinking cites failures by both the crew and the company as contributing to the disaster, in addition to the horrific bumbling by the captain.  The claim that "it could have been so much worse" is sadly always the case, and rings hollow in this tragedy that should never have happened in the first place.
There is no doubt that the majority of the crew aboard the Costa Concordia did their jobs and acted appropriately in a terrible situation. There have been reports of heroism by members of the crew that no doubt saved lives. Tragically, however, there is nothing about the sinking that could be rationally referred to as one of "shipping's success stories."   Now is the time to be focusing on how to prevent the similar disasters in the future, not to be handing out blanket awards.
Thanks to Phil Leon for contributing to this post.