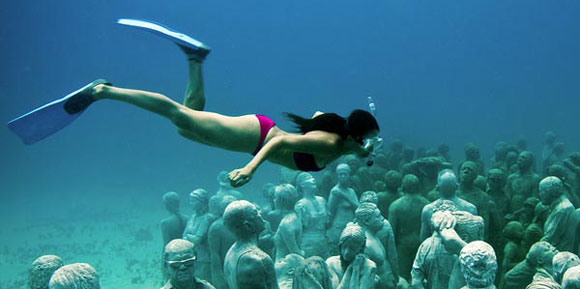 Snorkelers and divers swimming south of Isla Mujeres and off Punta Nizuc off Cancun will now find themselves in a monumental underwater sculpture garden of life-sized human statues rising up from the sandy bottom in crystal tropical clear waters.  The 450 sculptures are the work of British artist Jason deCaires Taylor and are part of MUSA  (Museo Subacuático de Arte,) a vast underwater museum in the in the waters surrounding Cancun, Isla Mujeres and Punta Nizuc.
The Great Mayan Reef is the second largest barrier reef in the world.  In addition to being threatened by pollution, over-fishing and ocean warming, the reef is also threatened by its popularity.  The section of the reef adjacent to the resort islands of Cancun and Isla Mujeres attracts 750,000 people each year. One of the stated objective of the museum is to take pressure off the natural reef by drawing visitors to the sculpture reef.
The Museum is divided into two galleries. Salon Manchones is off the southern end of Isla Mujeres in eight meters of water and is suitable for both divers and snorkelers. Salon Nizuc off Punto Nizuc is four meters deep and intended for snorkelers. Each of the sculptures is made of a marine-grade concrete specially prepared to entice coral growth.  Within a few years the sculptures themselves will become wholly grown over with coral.
While by far the largest underwater sculpture project undertaken by Jason deCaires Taylor, it is not his first.  Off the island of Grenada he also developed and underwater park of 65 sculptures.
Trying to Protect a Reef With an Otherworldly Diversion
Underwater sculpture park set to open near Cancun
Thanks to David for contributing to this post.