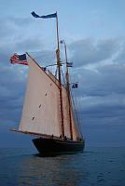 In the 22nd Great Chesapeake Bay Schooner Race, thirty nine schooner raced from 127 nautical miles down the Chesapeake Bay from Baltimore, Maryland to Portsmouth, Virginia.  Summerwind, the 100′ 1929 John Alden designed schooner owned by the United States Merchant Marine Academy at Kings Point, NY, won first place, followed by the Pride of Baltimore II and the schooner Virginia.  For a complete list of results and awards click here.
This race represents a real comeback for the schooner Virginia. In 2007 the Virginia won the Great Chesapeake Bay Schooner Race, but by 2010 she had fallen on hard times. See our previous post - Cash-strapped Schooner Virginia appears dead in the water.   As we posted in July, the schooner Virginia is back and doing quite well. Third place is nothing to be scoffed at, particularly as simply getting to the starting line can be the greatest challenge in these difficult economic times.
The Virginia was captained in this race by none other than Andy Reay-Ellers.  I briefly sailed with Andy when he was mate on HMS Rose.  When the ship as sold to play the HMS Surprise in Russell Crowe's movie, "Master and Commander, Far Side of the World," Andy went on to help train the cast in square-rigger sailing and also appeared in the movie.
An interview with Andy Reay-Ellers prior to the Gloucester schooner race from earlier this year.
Gloucester Perspectives -Captain Andy Reay-Ellers of The Schooner Virginia from Joey on Vimeo.