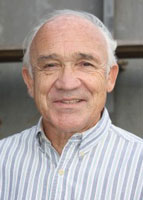 Congratulations to Richard Bailey who has been appointed captain of the SSV Oliver Hazard Perry, which, when commissioned next summer, will be among the largest and most sophisticated school ships built in America in recent decades.  The Oliver Hazard Perry Rhode Island organization has made an excellent choice. Captain Bailey, who has been part of the project from the onset, has also commanded more than six tall ships since 1972, including the HMS Rose (now the HMS Surprise.)
Captain Bailey has mastered the range of skills necessary to successfully operate a sail training ship – from seamanship, to personnel management, to diplomacy, to an ability to herd cats.  I met Richard Bailey when he was captain on the HMS Rose and I went on a day sail from South Street Seaport.  The Rose was tied up alongside Pier 17 on the East River. I watched as Bailey apparently effortlessly maneuvered the burdensome 18th century replica in and out of very tight berth with a three or four knot current running, using the propellers to hold the ship against the current and the rudder to move the ship directly sideways. Very nicely done.  I later learned of Captain Bailey's management skills when I was part of a volunteer crew of Patrick O'Brien aficionados who sailed on the Rose from New York to Bermuda.  We were a motley mix of enthusiasm and inexperience with just enough knowledge to be dangerous, but Captain Bailey, his officers and crew soon had us raising sails and standing watches on what would be a most enjoyable trip.
So again, congratulations to Captain Richard Bailey and to the Oliver Hazard Perry Rhode Island organization. I know that we are all looking forward to the day when the SSV Oliver Hazard Perry sets sail.