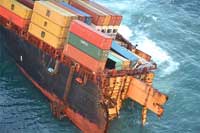 Daina Shipping, owner of the container ship MV Rena, has been fined NZ $300,000 (US $246,000) for discharging harmful substances after the Liberian flagged ship, ran aground on the Astrolabe Reef off Tauranga, New Zealand in early October of last year. The ship subsequently broke up on the reef, resulting in the most serious maritime environmental disaster in New Zealand's history.
The ship's captain and chief engineer were found guilty of a total of eleven charges related to poor seamanship and attempting to cover up their actions by altering the ship's GPS log, its passage plan and its computer records. Each was sentenced to seven months in jail.
The $300,000 fine is largely symbolic.  After insurance, the cleanup from the Rena grounding cost New Zealand taxpayers an estimated $50 million.