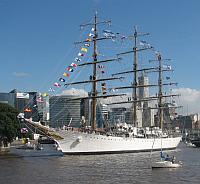 The Argentine Navy training ship Libertad and her crew of over 200, docked in port of Tema, Ghana, were seized by a court order obtained by NML Capital Ltd., a subsidiary of Elliot Capital Management, a hedge fund run by the US billionaire Paul Singer.  Argentina's Foreign Ministry accused the Ghanaian court of violating rules of diplomatic immunity.
The conflict is over a more than a decade long legal battle between Argentina and hold-out creditors. In 2001 and 2002 Argentina defaulted on more than $100bn of debt, the biggest default in history. About 94% of these loans were restructured in 2005 and 2010, returning creditors roughly 30 cents on their dollar. Elliot Capital was among the 6% who did not participate in the restructuring and continued with legal action against Argentina.
Paul Singer is well known as a "vulture capitalist" whose business model is to buy distressed debt cheaply and to sell it at a profit or to sue for full payment.  Singer is a major donor to the Republican Party.   Reportedly, the ship and crew will be released on the payment of a bond.
Argentine Navy ship nabbed by bondholder
The Libertad and its 200 strong crew of Naval cadets on their graduation tour can only leave port if the Argentine government posts a bond with the court in Ghana, which the hedge fund could then seek to recover.
In this case, at least, the tactics used by Somali pirates and vulture capitalists seem remarkably similar.