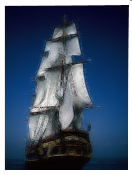 John Fitzhugh Millar is a historian, author, tall ship captain and the force behind the construction of the replica HMS Rose.  Here are his reminiscences of the HMS Bounty.  Reposted with permission of the author.
BOUNTY Reminiscences by John Fitzhugh Millar
Many Hampton Roads residents will remember fondly the jaunty blue Tall Ship Bounty, which was present here for many Harborfests and for last summer's Operation Sail. She will now never return, but local artist Bob Holland painted a lovely portrait of her, from which prints are available.
Bounty was built for MGM Films in 1960 at Lunenburg, Nova Scotia in the same shipyard that built my own ship, the 24-gun Revolutionary War frigate Rose, in 1969 – another frequent participant in Harborfest until she moved to San Diego in 2002 to star in the Russell Crowe film Master & Commander: to the Far Side of the World. By amazing coincidence, the original Rose (built 1756) and the original Bounty (built 1784) were produced by the same shipbuilder, Hugh Blaydes, at Hull, Yorkshire.
MGM was worried about the comfort of Marlon Brando and the other stars involved in filming Mutiny on the Bounty on location off Tahiti. The only way they could incorporate all the air-conditioning equipment they felt they needed was to make Bounty over a third again as big as the original ship – so much for authenticity! Bounty also appeared in other movies, including Treasure Island, the Monty Python pirate film Yellowbeard, and Pirates of the Caribbean II.
Bounty spent many profitable years after the Brando movie open to the public at Saint Petersburg, Florida. After Ted Turner had purchased MGM, he decided to use the then deteriorating Bounty as a giant tax write-off by donating her to the city of Fall River, Massachusetts.
Early in 1994, Richard Bailey, captain of the Rose, received a telephone call from an official at Warner Brothers, wanting to know if Rose would be available for filming a re-make of the Errol Flynn film Captain Blood, and whether Bailey could recommend a second ship representing the same period. Rose would be available, but Bounty was in such rotten condition that she could not safely cross the harbor, let alone go to sea. "We're sending you by Fedex a certified check for $750, 000," said the official. "Get her repaired." Bounty had been built of seasoned New Jersey oak, which explains how she had lasted so long. Several months later, Bailey telephoned the official in California to report that the work (mostly replacing the topsides) had been completed, and to ask where and when the company needed the two ships. "Oh, you spent all that money, huh?" said the official. "We were unable to find an actor who could match Errol Flynn, so the movie is cancelled."
Therefore, because of Bailey's quick thinking, Bounty received a complete rebuilding at no charge that enabled her to start sailing again. Her first voyage was to accompany Rose in the summer of 1995 to historic Louisbourg, Nova Scotia (Canada's counterpart to Colonial Williamsburg), where thousands of re-enactors had arrived to mark the 250th anniversary of the 1745 capture of Louisbourg by amateur New England soldiers. The two ships contributed greatly to the colorful event there.
A few years afterwards, businessman Robert Hansen, a wealthy sail-trainee, told Bailey that his week-long experience cruising aboard Rose was the most fun thing he had ever done. Could he buy the Rose? Bailey replied that Rose was not for sale, but he thought that Bounty might be available. Hansen then bought Bounty in 2001, and found that she was leaking badly and that her entire bottom needed to be replaced. With difficulty, she was towed to Maine and the work was done. Hansen founded a non-profit foundation to manage the ship, and developed an educational program out of Greenport, Long Island that took her to many ports over the next few years.
Historic wooden ships, unless they are built of exotic tropical hardwoods or of epoxy-saturated wood laminates, have a finite life-span of about 10 – 20 years, and then they have to be rebuilt. Bounty eventually faced rebuilding again, so she went to Maine in 2006 for a multi-million-dollar refit. Following that, Bounty was sent on an exciting tour completely around the world, during which she faced periods of intensely fierce weather. Not long after completing her circumnavigation with a crew of about 18, Bounty came to Norfolk and Portsmouth for Operation Sail, and many people saw her depart afterwards under full sail – an impressive sight. She visited nearly all the Operation Sail ports on the East Coast. It was planned to take her on another European tour in 2014.
With the approach of winter, it was decided to take Bounty to Florida. Robin Walbridge, aged 63, had been Bounty's captain since her Fall River days. He had taken the ship through many storms over the years, and he thought that skirting hurricane Sandy on a passage to Florida was preferable to facing the storm in Long Island Sound. He reckoned without the huge, confused seas off Cape Hatteras as the hurricane passed the area. The typical waves there were over 20 feet high, and because the hurricane winds had switched around three-quarters of the compass some of the waves combined with others to make monsters as high as 50 feet. The crew, mostly inexperienced, did an admirable job of lowering the upper masts and yards down to the deck to reduce windage, but the ship took on massive amounts of water due to the enormous waves, and soon the two large diesels failed about 90 miles southeast of Cape Hatteras. Walbridge requested a Coast Guard rescue just before daybreak on 29 October, got the crew into survival suits, and launched two large life-rafts. Walbridge and two other crewmembers were swept into the water, and only one of them was recovered alive. The ship herself sank minutes after Coast Guard helicopters arrived.
Claudene Christian, aged 42, ironically the 5-greats-granddaughter of Fletcher Christian, who had led the mutiny on the original Bounty in April, 1789, was not so fortunate. Her body was recovered by the Coast Guard, and Walbridge remains missing.
Another copy of Bounty (this time the correct size and correct pumpkin color, not blue) was built in New Zealand in 1979 for the Dino de Laurentiis film. After many years of being based in Sydney, Australia, she is now based in Hong Kong.
Many Tall Ships will continue to visit Hampton Roads in the coming years, but it will take a long time to erase the positive memory of Bounty's colorful visits here.