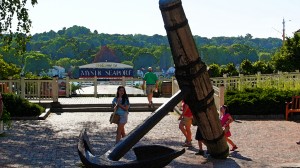 This Saturday November 10, 2012, from 10 a.m. – 7:30 p.m,, the Mystic Seaport Museum is celebrating the 71st anniversary of the arrival in Mystic of the whale ship Charles W. Morgan.  The Morgan was launched in 1841 and is the last wooden whaler and the world's oldest surviving merchant vessel.  Admission to the museum will be free and a spectacular fireworks show is promised in the evening.
Tour the Morgan and speak with knowledgeable interpreters about the history of this "lucky ship." Watch as riggers work on shrouds for the vessel and hear a shipwright's perspective about restoring this icon. Stop by the Sail Loft to view the whaleship's sails and learn more about her rig. 
Kids, come hear stories from the sea and make your own keepsake at the Children's Museum. Visit the Treworgy Planetarium and discover the night sky the Morgan's crew used to navigate her around the world. Stop by the Stillman Building to learn lots of fun and interesting facts in the "What Wonderful Whales" program.
Take home a memento from the day's celebration by making your own scrimshaw souvenir, and visit the Mystic Press Printing Office to receive a commemorative handbill printed on the shop's authentic Washington Press.
Thanks to Irwin Bryan for contributing to this post.