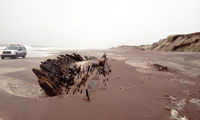 When Superstorm Sandy came ashore roughly two weeks ago, she uncovered at least two shipwrecks.  On Fire Island, New York, the storm washed away dunes east of Davis Park revealing the remains of a wooden ship believed to be a post-Civil War cargo vessel built before 1880.  Experts from the Long Island Maritime Museum are conducting more research to attempt to identify the ship.
In Surf City, NC, Sandy also uncovered a fragment the William H. Sumner, a 489-ton, 165-foot three-masted schooner whose young captain died under suspicious circumstances after running the ship aground in 1919.
In New York harbor, the Statue of Liberty and Ellis Island are closed while storm damage is being assessed.   Fortunately the statue itself suffered no damage but the facilities, including docks, offices and even brick walkways were significantly damaged. The Statue of Liberty had been closed for a year for renovations prior to the storm and had only been opened for six hours prior to Sandy sweeping into the harbor.  Ellis Island's invaluable cache of historical documents and records was not harmed by the storm, but there was considerable damage to docks and buildings reported.
Sandy damage to Statue of Liberty, Ellis Island