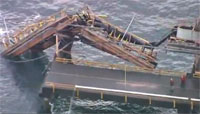 At around 1 AM on Friday morning, the Cape Apricot, a cape-sized bulk carrier, chartered to K Line, smashed through a coal conveyor serving the largest of two berths at Westshore Terminals in Vancouver, Canada.  An undetermined amount of coal was spilled into Georgia Strait.  Westshore Terminals is North America's largest coal exporting port facility.  The bulk carrier took out approximately 100 meters of the conveyor, the causeway, water pipes, electrical lines and an adjacent road.
Ship crashes into dock at Westshore Terminals, spilling coal into water
The mishap has put the berth out of service for an indefinite period of time, affected the port's ability to export coal, disrupted customer deliveries and caused a yet-to-be-determined effect on the waters off the Fraser delta.
The loss of the berth, which handles ships with a cargo capacity up to 260,000 tonnes, is a significant blow to Westshore, which is North America's largest coal exporting port. Westshore has one remaining berth, which can handle ships with a capacity of 180,000 tonnes.