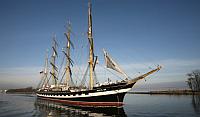 For a handful of ships, the great age of sail has not yet ended.  In 2013, the Russian Navy sail training ship Kruzenshtern will call in 20 seaports in 11 countries and will take part in several international regattas. The ship, originally built in 1926 in Bremerhaven, Germany as the Padua is one of four surviving Laeisz Flying P liners and the last actively sailing.  The Kruzenshtern, a four masted barque, is the second oldest windjammer still actively sailing, second only to the Russian sail training ship Sedov, built in 1921 as the Magdalene Vinnen II.
Tall ship Kruzenstern destinations for 2013
The other surviving Flying P liners are the Pommern; a museum ship in Mariehamn, Finland; the Peking, a museum ship in New York City's South Street Seaport and the Passat, a museum ship in Lübeck's sea resort of Travemünde, Germany.