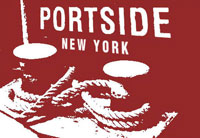 Really great news about the tanker, Mary A. Whalen. (Negotiations are not finalized so perhaps we should say "potentially great news" so as not to jinx anything.)  For the last six years, the historic tanker and PortSide New York, the non-profit educational organization based on the ship, have been without a permanent home.  If all goes well that may soon change. Portside has announced:
"PortSide is negotiating with GBX▪Gowanus Bay Terminal to have a homeport in Red Hook, Brooklyn.  The tanker MARY A. WHALEN would be publicly accessible directly from Columbia Street, at a site next to her first home at Ira S. Bushey'sshipyard and fuel terminal at the foot of Court Street.  A home at GBX, a vital, industrial facility with a rich history, would be in keeping with PortSide's mission to bring the landside community and working waterfront closer together while exploring and promoting Red Hook's past.   Post Sandy, our plans for such Red Hook cultural tourism are more important than ever."
There is more good news:
Working closely with the State Historic Preservation Office (SHPO), PortSide has succeeded in getting the MARY A. WHALEN listed on the National Register of Historic Places!  With that designation and a home at GBX, PortSide would significantly add to Red Hook's cultural assets.   By repurposing the MARY A. WHALEN, PortSide has created the only oil tanker in the world providing public educational and cultural programs
Congratulations to Director Carolina Salguero and the Portside New York team.  To learn more, click here.