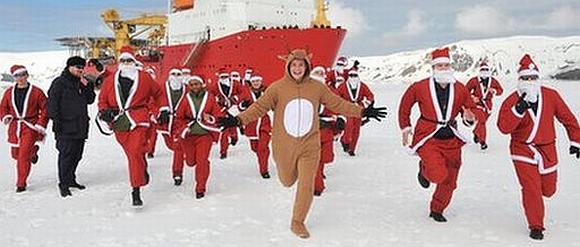 Tis' the season when Santa shows up in the most unusual places. A small ship-load of Santas was recently observed running across the ice at the bottom of the world. Twenty crew members dressed as Santa (with at least one reindeer) from the ice patrol ship, HMS Protector, took part in a run on the ice surrounding Deception Island in the Antarctic.  The event raised funds for the charity East Anglia's Children's Hospices (EACH). EACH has raised more than £34,000 from seven Santa runs earlier this month in the warmer climes of East Anglia.

Once again this year, Santas are strapping on scuba gear to swim with sharks and make other underwater appearances all around the world. Scuba Santas, have been making a splash so to speak, from Camden, New Jersey to Cincinnatti, to the Florida Keys and Los Angeles.  They have also made appearances in Seoul, South Korea and Tokyo, Japan.  (See our post about Scuba Santas from last year, as well.)
On the Niagara River, John Fulton, known as the "Surfing Santa" will again attempt to windsurf across the river wearing a Santa suit. Fulton has been crossing the river as "Surfing Santa" for the last 28 years.  This year, Surfing Santa will be escorted by the U.S. border patrol.  In past years, things have not always gone smoothly. Last year, Surfing Santa needed to be rescued by the border patrol after high winds snapped his mast half way across the river.