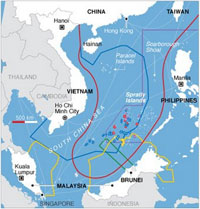 Tensions are rising in the South China Sea, where at least a half dozen nations are asserting a jumble of overlapping claims of sovereignty, fishing and mineral rights.  China is now ramping up their claims by announcing that as of January 1st of next year, authorities in the Chinese province of Hainan will board and seize control of foreign ships which they consider to have violated China's expansive claim of territorial waters in the South China Sea. Surin Pitsuwan, secretary-general of the Association of Southeast Asian Nations (ASEAN), said the Chinese plan was a "very serious turn of events".
India and Vietnam have both responded by threatening to deploy naval patrols to protect their vessels operating in the contested region.  Vietnam has complained of Chinese interference with oil exploration operations and fishing. Vietnam has announced marine patrols of their own in the disputed waters which will begin on January 25th. India's Navy chief Admiral D K Joshi  has also announced that India will deploy naval assets to protect its interests in the region.
The Next Global Hotspot to Worry About
Earlier this year we posted about a standoff between China and the Philippines over fishing rights on the Scarborough Shoal, a series of islands and an atoll, which is claimed by the Philippines, China and Taiwan.
In September a dispute between China and Japan over uninhabited islands in the East China Sea resulted in anti-Japanese protests across China.
Thanks to  Brian Quinn for contributing to this post.