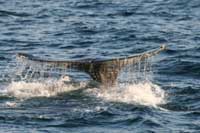 The New York Times, this morning, features in their "Room for Debate" section, a worthwhile discussion on the real threats to the survival of whale species, entitled, Did We Save the Whales?   In the discussion, Junichi Sato of Greenpeace Japan notes that "Our appetite for fish is exceeding the oceans' ecological limits, and all this fishing kills 300,000 cetaceans a year."  Darlene R. Ketten of Woods Hole Oceanographic Institution discusses the complexities of noise pollution on whale populations.  Douglas P. Nowacek of Duke University discusses the impact of global warming on whales and acknowledges that "we don't know yet whether … threats [of climate change] will be more dangerous than a harpoon."  FInally, Felix Marx of the University of Otago in New Zealand discusses "deciding which species to save."  Well worth reading.
At the other end of the food chain, the Animal Planet cable television channel announced on January 5th, that they were renewing Whale Wars for a sixth season.  Whale Wars, is the reality TV program where Paul Watson and the Sea Shepherds risk life and limb and break the Law of the Sea in an attempt to save non-endangered minke whales from Japanese whalers.
This season should feature considerable drama as Sea Shepherd founder Paul Watson is on the lam from the law, having jumped bail in Germany. He continues to dodge an Interpol arrest warrant.  A US court has enjoined the Sea Shepherds from coming closer than 500 yards from the Japanese whaling ships, an injunction the  Sea Shepherds plan to ignore. Paul Watson is also being sued by past supporter Ady Gil for the intentional scuttling of Mr. Gil's namesake boat during a previous reality TV show season.
We also oppose Japanese whaling, but believe that diplomacy and legal action are the preferable to the vigilante violence and law breaking practiced by the Sea Shepherds, who continue to do effectively nothing to save endangered species of whales.  They are, however, reality TV stars.  Discovery Communications, parent of the Animal Planet, the home of Whale Wars, is also the sponsor of the equally popular reality TV show, "Here Comes Honey Boo Boo."