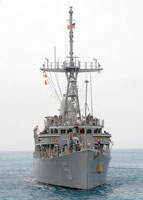 The minesweeper USS Guardian ran aground early this morning on a reef in the Philippines' Tubbataha National Marine Park. The park is a World Heritage Site in the Sulu Sea, 640 kilometers (400 miles) southeast of Manila.  USS Guardian is an Avenger-class minesweeper which had just ended a port call at Subic Bay and was bound for Puerto Princesa when it struck the reef.  Thus far there have been no reports of fuel oil leaks. The Navy said in a statement that the crew of the USS Guardian was working to find out the best method of safely extracting the ship. The 224′ long ship has a wooden hull, sheathed in fiberglass, and was built at Peterson Shipbuilders.  The Guardian is based in Sasebo, Japan.
US navy ship runs aground on Tubbataha Reef
It is not clear whether coral has been damaged by the grounding. The Philippine government assess a fine of roughly $300 dollars per square meter of coral damaged. In 2005, the environmental group Greenpeace paid a fine of around $7,000 after their flagship Rainbow Warrior also grounded on Tubbataha reef.  Thanks to Ulrich Rudofsky for contributing to this post.