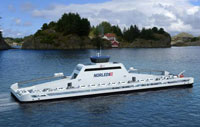 The Norwegian shipyard Fjellstrand and Siemens are developing the world's first electrically powered car ferry. Starting in 2015, the 80-meter ferry will will operate across the Sognefjord between the towns of Lavik and Oppedal. The ferry will have the capacity to carry 120 cars and 360 passengers.  Remarkably the batteries which power the ferry will be able to recharge in only 10 minutes.
First car ferry powered by electric drive system
The ferry has been specially designed to accommodate the requirements of an electric drive system. As a catamaran with two slim hulls, it offers less resistance in the water than a conventional vessel. Furthermore, the hulls are made of aluminum instead of steel, which is conventionally used. Rather than a diesel engine, the ferry is equipped with electric motors to drive the ship's two screws. These motors are powered by a battery weighing 10 metric tons. All in all, the new vessel weighs only half as much as a ferry of conventional design. This saving has a direct impact on the specifications of the drive system. Whereas the ferry currently serving the route has an engine with an output of 1,500 kilowatts (kW) or more than 2000 horsepower, the battery in the new vessel will have an output of 800 kW. In normal conditions, operating at a speed of 10 knots, battery power of 400 kW will suffice.