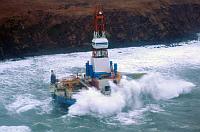 The plan was to move Shell's two drilling rigs from Alaska to Seattle Washington for maintenance and repair.  Shell's tax bill, however, may have also played a role in the timing of the move. Things have definitely not gone according to plan. The drilling ship Noble Discover is still tied up in Seward, Alaska and the drill rig Kulluk is hard aground near Kodiak Island.   As reported by the Alaska Dispatch:
Shell hoped to save millions in taxes by moving now-grounded drill rig out of Alaska
"A move by Shell to avoid millions in Alaska state taxes may have backfired when the oil rig Kulluk ran aground Monday on Kodiak Island. The rig initially went adrift while it was being towed to a shipyard and tax shelter in Seattle. Instead, the vessel found itself literally stuck inside Alaska at the start of the new year….
A Shell spokesman last week confirmed an Unalaska elected official's claim that the Dec. 21 departure of the Kulluk from Unalaska/Dutch Harbor involved taxation.  City councilor David Gregory said Shell would pay between $6 million and $7 million in state taxes if the Kulluk was still in Alaska on Jan. 1.
Shell's Curtis Smith said in an email last week that the decision involved financial considerations. The rig had been moored in the Aleutian Islands port following several months on an oil exploration project in the Arctic Ocean.
"We are now planning to sail both vessels to the west coast for seasonal maintenance and inspections. Having said that, it's fair to say that the current tax structure related to vessels of the type influenced the timing of our departure," Smith said. "It would have cost Shell multiple millions to keep the rigs here," he added, though he didn't have an exact amount.
Prior to the grounding of the drilling rig, the towline to the tug Aiviq parted.  Not long afterwards, the tug suffered a failure in three engines.  Parts to repair the engines were air-dropped by the Coast Guard to the tug.
Coincidentally, the other Shell drill ship, the Noble Discoverer was supposed to depart from Seward, Alaska on Christmas eve, but was delayed because of engine failure on its support tug's engines.  The Noble Discoverer had previously been cited by the Coast Guard for significant failures with pollution control equipment and crew safety.
Shell Alaska spokesman Curtis Smith said the company has a long, successful history of working offshore in Alaska and is confident it can build another multi-decade business in the Arctic.  "Our success here is not by accident," Smith said. "We know how to work in regions like this. Having said that, when flawless execution does not happen, you learn from it, and we will."
The phrase "flawless execution" seems very poorly chosen given the recent string of problems and failures encountered by Shell. Let us hope that they do indeed learn from their less than "flawless execution."