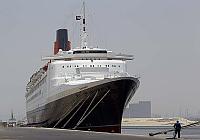 Four years ago, the luxury liner Queen Elizabeth 2 was sold to financial interests in Dubai who planned on converting her to a luxury hotel. Unfortunately, the arrival of the ship coincided with a credit crunch and near financial melt-down in the emirate.  Last July, a more modest hotel conversion plan in a less fashionable section of Dubai was announced for the QE2, after the luxury hotel plan fell through.  Then, just before Christmas, it was reported that the ship had been sold for scrap to Chinese interests for £20 million.   Not long afterwards, ambitious, though rather vague, plans were announced to convert the ship to a luxury hotel and move her back to the Thames.
And now it has been announced that an agreement has been signed with Oceanic Group Pte Ltd., a cruise company with offices in Singapore, Hong Kong and Shanghai, to convert the ship into a five-star hotel. Other terms of the deal, including where the converted ship/hotel will be operated, have not been disclosed. From the Oceanic Group website:
On 17 January 2013, in Port Rashid, Dubai, Oceanic Group unveiled its plans to transform the QE2 into a luxurious floating five-star hotel, securing its long-term future and extending the iconic ship's legacy to new generations in Asia…. 
As a luxury hotel, the QE2 will take her place alongside the great heritage hotels of Asia, including the Peninsula Hotel in Hong Kong, the Peace Hotel in Shanghai, the Grand Hotel in Taipei and the Rex Hotel in Ho Chi Minh City. She will add a new level of luxury accommodation without the need for land, and become an iconic tourist attraction to complement Asia's already famous waterfronts….
Is the latest announcement, the third in less than a month, any more real than the previous plans and press releases? Only time will tell. Watch this space.
QE2 Ocean Liner to Be Asia-Based Luxury Hotel