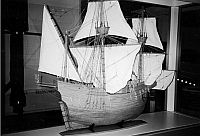 In the construction of replica sailing ships, the 18th century is reasonably well represented. The 17th also has not been left out.   Replicas of Columbus' ships have ensured that 15th century replicas still sail.  Recently two replica ships from the 16th century have been in the news, one in the planning stages and the other nearly completed.
In around 1556, the Basque whaling ship San Juan sank in Red Bay in Labrador. In 1978, Parks Canada archaeologists discovered the wreck of the 250-ton ship, the oldest European wreck yet discovered in America, north of Florida.  As reported by the Ottawa Citizen: The 450-year-old San Juan, a jumble of thick beams and broken barrels lying in shallow waters off the site of a 1560s-era whaling station in the Strait of Belle Isle, is to be resurrected by a team of Spanish maritime heritage experts planning to construct a full-scale, seaworthy replica of the original 16-metre, three-masted vessel.  
To mark the Basque city of San Sebastian's year as Europe's "cultural capital" in 2016, Spain expects to christen its floating tribute to the whaling crews that — for several decades during the 16th century — transported millions of barrels of whale oil to Europe from the future Canada, a treasure every bit as valuable at the time as the gold taken by Spanish conquistadors from more southerly parts of the Americas.
On the Pacific coast, the Maritime Museum of San Diego has announced that the construction of the replica of the San Salvador is 60% complete. In 1542, explorer Juan Rodriguez Cabrillo sailed the original San Salvador into what's now San Diego Bay and claimed the region for Spain. As reported by KPBS San Diego:  The finished San Salvador will be more than 100 feet long, have a 100-foot-tall mast and weigh 200 tons – that's 170,000 pounds of lead and 230,000 pounds of wood. It's about 60 percent complete, with 20 to 30 people working on it daily. Five hundred years ago, Cabrillo built his ship in less than half the time, but he had the help of nearly 100 slaves.
Still, Maritime Museum President Ray Ashley said he's pleased with the progress. "We're actually working with a smaller crew than we originally envisioned, and we're taking longer to build the ship than originally envisioned," Ashley said. "But as a result, more people than we thought are getting a chance to see it, so we're quite happy with the pace of construction."
Two Years of Building a 16th Century Spanish Galleon
Thanks to Irwin Bryan for contributing to this post.