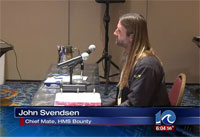 The US Coast Guard has wrapped up eight days of hearings on the sinking of the replica of the HMS Bounty on October 29th of last year.  Two died in the sinking, crew member Claudine Christian and Captain Robin Waldridge whose body has never been found.  The hearings, which were streamed live on-line, were gripping, at times difficult to watch and yet hard to turn away from. For those who missed them, the first several days are posted on Youtube by Wavy TV 10, while days three through eight have been posted on Youtube by Zach Lash.

L. Jaye Bell commented on Facebook:
It's over. I liked what the lead investigator said to John Svendsen [the Chief Mate onthe Bounty] at the end.
"The question I struggle with is "Why?" From the time we met the crew in Elizabeth City, this wasn't easy; you all showed a lot of courage. You were with a man who was always FOR safety, and they still stood here and praised him. Why? Why make this choice with this crew?"
John's answer spoke volumes," I struggle with that myself."
 The commander continued, "As a party of interest, you did a commendable job of being here. The story of what happened aboard the HMS Bounty is going to educate a lot of people."