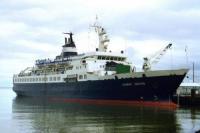 For almost a month, the small cruise ship MV Lyubov Orlova has been adrift in the Atlantic Ocean, a "ghost ship" without power, lights or passengers, except for the rats left aboard.  The 295′ ice strengthened cruise ship, built in Yugoslavia in 1976, has been abandoned twice – once by her owners in St John's, Newfoundland in 2010 and once by Transport Canada. The ship was recently spotted drifting over a thousand miles off the coast of Ireland.
On January 23, 2013 MV Lyubov Orlova was taken under tow bound for a scrap yard in the Dominican Republic.  After the ship broke her tow line in heavy seas,Transport Canada dispatched an offshore supply vessel, Atlantic Hawk, to reestablish the tow and to make sure that the ship did drift into oil or gas drilling rigs off Canada's eastern coast.  The MV Lyubov Orlova was again taken under tow, but the tow line parted again on January 31, 2013, when the ship was in international waters. Transport Canada ordered the ship to be abandoned.  In a statement by the agency they said, "The Lyubov Orlova no longer poses a threat to the safety of offshore oil installations, their personnel or the marine environment. The vessel has drifted into international waters and given current patterns and predominant winds, it is very unlikely that the vessel will re-enter waters under Canadian jurisdiction."
With no functioning electronics or GPS transponder on the ship, the ship literally drifted away on the Atlantic currents. Earlier this week, Canadian officials acknowledged they did not know the location of the ship.   Now according to the National Geospatial-Intelligence Agency, the Lyubov Orlova has been spotted again at roughly 1,300 nautical miles from the Irish coast.
The current owner of the ship is technically responsible for the vessel, though there has been no response from the owner, Neptune International Shipping, described as a "Caribbean-based" Iranian buyer," which purchased the ship for scrap for only $275,000 in February 2012.  So far, alt least, no one has suggested a remake of 2002 movie, Ghost Ship, which has a similar plot line with a few more ghosts and goblins.
Thanks to Irwin Bryan and Ed Weglein for passing along the news
Abandoned Russian ship located 2,400 km from Ireland