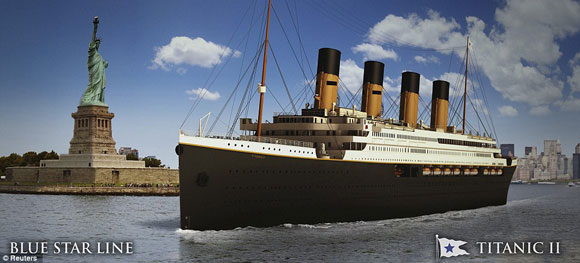 How should we think about the RMS Titanic? Was the ship, which sank with a loss of over 1,500, a major maritime tragedy? Or was it just the backdrop for a historical drama about wealth and class conflict – a sort of Downton Abbey on the North Atlantic?  The questions came to mind when Australian billionaire Clive Palmer unveiled his plans for building  Titanic II, a near replica to the ill-fated Titanic, with more lifeboats and at least one fewer iceberg. His vision of the ship, which he plans to have built in China and be in service by 2016, seems to lean decidedly toward historical melodrama.
Palmer's dream, presented at the Intrepid Sea, Air and Space Museum in New York, is to provide more than a cruise but a chance to step back in time.  Just as on the original ship, there will be three classes of accommodations. Passengers with different tickets will not be allowed to move between the classes, though reportedly there will be more toilets for the lower decks than on the original ship.
To get in the spirit of the voyage, period costumes will be provided.  As reported by the Daily Mail, "everyone on board will however be provided with early-20th-century-style clothes and undergarments in their cabins … Whilst there will be air conditioning there will be no TVs and no Internet in a bid to get back to the 'romance' of a bygone age."  I am guessing that even in first class, passengers will be required to provide their own diamond tiaras.
Perhaps fittingly, the presentation of the ship named after a marine disaster had been by roughly four months by the arrival of a natural disaster, Superstorm Sandy. The original gala scheduled for December 3rd, 2011, was cancelled after Sandy wrecked her havoc on New York on October 30th.
Superstorm Sandy, the Aircraft Carrier Intrepid, the Space Shuttle Enterprise and the Titanic II
Thanks to Alaric Bond, Phil Leon and Irwin Bryan fro contributing to this post.