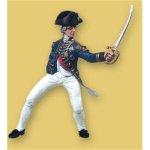 Accomplished historian and archivist, Allan Janus has reviewed the Lord Nelson action figure now available on Amazon.  His review:
"An excellent action figure of Horatio, Viscount Nelson – complete with sword, eyepatch, empty sleeve and chelengk. The one minor negative is that Nelson's stance is quite wide, making it difficult at the outset for him to stand. But a bit of judicious leg-bending brought him round, and now he's quite upstanding and quarterdeck-ready. Probably the finest Nelson action figure available today."
I note that Papo, the vendor who supplies this figure also sells a Napoleon action figure as well as Napoleon's horse. The Nelson action figure's suspiciously broad stance looks quite a bit like Napoleon's.  Bonnie's open legs were clearly intend to suit an equestrian pose. With Nelson, the stance doesn't make as much sense. Fortunately, we have Allan's wise counsel that  "a bit of judicious leg-bending" corrected the problem. Or if one chose, it does appear that Lord Nelson would be well suited for Napoleon's horse, though not, of course, on the quarterdeck of HMS Victory.
Sadly there appears to be no action figure for John Paul Jones, though there are many for the only slightly more fictionalized character, Captain Jack Sparrow, from Disney's Pirates of the Caribbean.  
For those of a more literary bent there are Shakespeare, Charles Dickens, Oscar Wilde, Edgar Allen Poe ( with raven included) and Jane Austen action figures.  Sadly, there is no Joseph Conrad action figure.