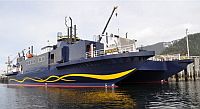 The Alaskan high-tech ferry MV Susitna cost $78-million to build.  More than just a ferry, it is also an ice-capable amphibious assault vessel for the Navy, which was supposed to have carried commuters from the Matanuska-Susitna Borough (or Mat-Su as it is known) across upper Cook Inlet.  Mat-Su's largest city is Wasilla, best known as the home of Sarah Palin.   The ferry project was championed by the late Sen. Ted Stevens, who was famous for the "bridge to nowhere," a proposed $400 million bridge between Ketchikan and Gravina Island, Alaska.  The  "bridge to nowhere" was subsequently cancelled.  Likewise, the Susitna has never been put into service.  The Mat-Su borough is now trying to give the ferry away to anyone who will take it.
The ferry was essentially given to the the borough, but is now costing $80,000 – 90,000 per month in insurance, maintenance and storage costs.  A passenger ferry terminal costing $4.5-million was been built to support the ferry.  The ferry itself, however, will only carry 20 cars and 130 people, and is now considered to small to be economically viable.
The City of Los Angleles has expressed an interest.   Los Angeles County officials confirmed this week they are in "very preliminary" discussions about taking the vessel. "We think a ship like that could provide us with a versatile public safety asset for emergency response, mainly to Catalina Island, where the ability to move people and equipment and firefighting apparatus is currently a challenge," said Ryan Alsop, Los Angeles County assistant chief executive officer. Government entities in several other states, as well as operators from Europe and Asia, have also expressed interest. Thanks to Phil Leon for passing along the news.