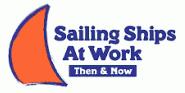 I am very pleased and excited to be speaking with Norman Brouwer and Captain Margaret Flanagan at the Working Harbor Committee of New York and New Jersey program "Sailing Ships at Work – Then and Now."   The presentation is on April 10th at the Community Church of New York, 40 E. 35th Street, in New York City.  It is shaping up to be quite a program.  If you are in the area be sure to stop by and say hello.
Join the WHC for an evening of film, discussion and refreshments as we revisit the great Age of Sail and highlight today's use of sailing vessels to transport cargo. We will also venture into the future to look at some revolutionary designs for large sail-assisted cargo vessels. With the rising cost of fuel, designers are investigating new ways to add wind energy to a ship's power plant. Are we headed for a new Age of Sail?
Films will include footage shot aboard tall ships in the early 20th century, on schooners and other traditional ships still transporting cargo today, and about modern rigs where masts rotate and sails can be trimmed with the push of a button.
Special guest speakers include:
Norman Brouwer, maritime historian, writer and lecturer, former curator of ships at South Street Seaport Museum and a foremost expert on sailing ships of all kinds.
Capt. Margaret Flanagan, marine educator and tall ship sailor, educator at South Street Seaport Museum, and Mate at Classic Harbor Line.
Rick Spilman, naval architect, writer, and founder and host of the Old Salt Blog, a virtual port of call for those who love the sea. His first novel is Hell Around the Horn, a nautical thriller inspired by the voyage of a British windjammer during the Cape Horn winter of 1905.
Wednesday, 10 April 2013 6 – 9 p.m.
Community Church of New York 40 E. 35th Street
Price — Adults: $25, Seniors (62+) $20
Supporter $100 (2 tickets plus recognition)
Sponsor $250 (4 tickets plus logo recognition)