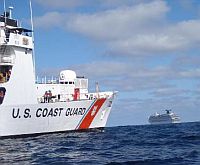 Carnival Cruise Line pays virtually no Federal taxes, yet without the docks, roads, and airports provided by local, state and the federal governments, it would be unable to operate its cruise line.  And, when one of its ships gets into trouble, Carnival feels free to call on all the support that the US Coast Guard and Navy can offer.  Overall, the company pays about 1% of its profits in US taxes.  Forbes magazine recently reported that Micky Arison, the CEO of Carnival has a net worth of $5.7 billion.
Senator Jay Rockefeller in his capacity as chairman of the Committee on Commerce, Science and Transportation recently wrote Mickey Arison a letter asking if Carnival intended to reimburse the $4.2 million dollars spent by the US Coast Guard and Navy in responding to the Carnival Splendor and Carnival Triumph casualties.
Senator Rockefeller writes: "The U.S. Coast Guard and U.S. Navy have indicated that the costs to them of responding to the 2010 Carnival Splendor incident were $1,541,905.53 and $1,884,376.75, respectively. The Coast Guard has indicated to me that the cost of responding to the Carnival Triumph incident is $779,914.26. These costs must ultimately be borne by federal taxpayers. Given that you reportedly pay little or nothing in federal taxes, do you intend to reimburse the Coast Guard and the Navy for the cost of responding to either the Carnival Splendor marine casualty or the Carnival Triumph marine casualty?"[Emphasis added]
In his letter, Senator Rockefeller further notes, "In just the past five years, I am aware of 90 serious events that have occurred on your cruise ships,  jeopardizing  the safety and lives of those onboard, and prompting Coast Guard marine casualty investigations. These incidents include groundings, collisions, allisions, engine room and generator fires, propulsion and electrical system failures that have left ships adrit at sea, and other critical onboard system failures.
"Despite the alarming number of onboard fires, major system malfunctions, and human errors that have occurred on Camival's ships since 2008, I see no evidence that the company has undertaken any meaningful course of corrective action to improve its safety record."