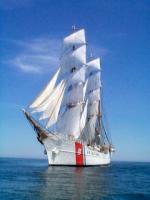 Interesting news about the US Coast Guard training ship, the barque Eagle. As reported by The Day, The Coast Guard barque Eagle may go to Baltimore for extensive repairs so future officers can keep training on the ship for years to come. The barque underwent a service-life extension at the Coast Guard Yard in Baltimore, Md., more than 30 years ago and it is due for another.
"The Coast Guard is looking at Eagle being the training vessel for cadets and officer candidates for hopefully another 40 years," said Capt. Raymond "Wes" Pulver, Eagle's commanding officer. "A final decision has not been made on the service-life extension project for Eagle but I'm optimistic we're going to do something to keep Eagle in very valuable service."  
The overhaul may take as long as five years. Plans include replacing the main diesel engine and reduction gear, inspecting and gauging the hull and overhauling the masts. At this point nothing has been finalized. The Eagle last underwent a major overhaul more than 30 years ago and it is due for another.  The ship began its life as the  Segelschulschiff Horst Wessel.  She was built by Blohm and Voss in 1936.  At the end of World War II, the Horst Wessel was taken by the United States and was commissioned into the United States Coast Guard as the Coast Guard Cutter Eagle on May 15, 1946.
Thanks to Tom Russell of the Traditional Sail Professionals Linked-in group for passing along the news.