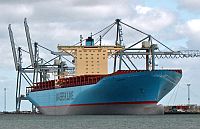 In the beginning of February, we posted about the flooding of the engine room on the Emma Mærsk, as the ship was entering the Suez Canal. The flooding put 16 feet of water in the engine room of ship, which is one of the largest container ships in the world.  The flooding was reported to be caused by a failure in an aft thruster.  The question of why a failure in the ship's shaft alley would also cause such a major flooding of the engine room itself has finally been answered.  Apparently, the watertight bulkhead that is designed to isolate the shaft alley from the engine wasn't watertight.  The watertight doors closed as designed but the wireway penetrations through the bulkheads are reported to have not been properly sealed, allowing the significant flooding.
Having once made my living managing ship construction and repair projects, all I can say is, "oops."  It is almost inconceivable that the Odense Shipyard's quality assurance inspectors, the owner's inspectors and the inspectors from the American Bureau of Shipping, the classification society which classed the ship, all missed the lack of sealing of the bulkhead penetrations which would allow the sort of flooding that disabled the Emma Mærsk.   The Emma Mærsk is one of eight "E-Class" 14,770 twenty-foot equivalent unit (TEU) container ships built at Odense.  Mærsk has reportedly found the same lack of watertight integrity in the bulkhead penetrations on other ships in the E-Class.
A time lapse video of the construction of a new Class EEE ship.   As the recent engine room flooding suggests, getting the construction right is not as easy as it looks.