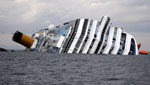 Update: Carnival Corp has has agreed to reimburse the U.S. government for costs related to the high-profile fires aboard the Carnival Triumph in February and Carnival Splendor in 2010. Read more here.
The juxtaposition is priceless. OK, priceless may be the wrong word as specific sums of money are involved. Last month, we posted about a letter written by Senator Senator Jay Rockefeller to Mickey Arison, the billionaire chairman of Carnival Corp, asking if Carnival intended to reimburse the $4.2 million dollars spent by the US Coast Guard and Navy in responding to the Carnival Splendor and Carnival Triumph casualties. Carnival, which pays little, or no, federal income taxes, responded to Senator Rockefeller, by saying "No, not our problem," or at least words to that effect.
On Wednesday, Carnival's subsidiary, Costa Lines, agreed to a plea bargain to pay a 1 million euro ($1.3 million) fine to avoid a possible criminal trial, on charges related to the grounding and sinking of the Costa Concordia off the Italian island of Giglio, last year, killing 32 people. While the captain and five other of the firm's employees will face criminal charges including manslaughter, the cruise line will not face a criminal trial. The company is still exposed to civil lawsuits, however.
Costa Concordia firm fined $1.3 million for shipwreck off Italy
The plea agreement means Costa Crociere may pursue legal action as an injured party. It has said it will seek payment of damages for the loss of the ship. 
Codacons spokesman Stefano Zerbi said it would have been preferable to see Costa Crociere "stand trial alongside its staff… It is a legal paradox," Zerbi said, "that the firm can pay this fine and then simply reappear at a trial as an injured party, as a victim."
To round out the Carnival news, the cruise ship Carnival Fascination failed a surprise CDC inspection due to unsanitary condition in food handling. It is the first Carnival ship to fail inspection in five years.
Carnival Fascination fails health inspection after dead flies, leaking brown material and cockroach 'nymph' found on board
Thanks to Phil Leon,  Brian Frizell and Alaric Bond for contributing to this post.