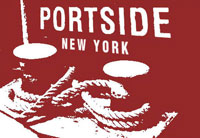 Our hearty congratulations to PortSide NewYork, which today was awarded a White House Champions of Change award in recognition for the wonderful work done by the non-profit organization to assist their neighbors in Red Hook, a Brooklyn community absolutely devastated by Hurricane Sandy. The White House Champions of Change program honors everyday Americans doing extraordinary things in their communities. The award to Portside New York is indeed well deserved.
After Sandy, the damage done to Redhook, an up-and-coming neighborhood in Brooklyn, was so severe that Time magazine referred to it the Red Hook Apocalypse.  Portside New York moved its operations ashore, off the tanker MARY A. WHALEN, which had survived the storm without major damage.  They set up a Recovery Center at 351 Van Brunt Street, moving computers, tables, chairs, modems and a printer off the tanker. They also set up free internet, charging stations and phone landlines, for use by local residents, who were without power or means of communication.  The Recovery Center  became a focal point for recovery advice and contacts and served as a meeting space for volunteers and community groups.  See our previous post – PortSide NY, the Tanker Mary A. Whalen, Superstorm Sandy and Redhook.
Today PortSide NewYork's Founder and Director Carolina Salguero is in Washington receiving the Champions of Change award  and engaging in a panel discussion on other Sandy volunteer recipients.  PortSide is based on a historic ship, the tanker MARY A. WHALEN, which was listed on the National Register of Historic Places just days before the storm.
As described by Craig Hammerman, District Manager of Brooklyn, Community Board 6, who nominated PortSide for the "Champions For Change" Award, "PortSide NewYork's innovative approach was to apply their experience with cultural pop-ups to create an immediate, inventive community-based Sandy aid station that continually changed services in response to needs and opportunities. PortSide deployed a deep knowledge of the community to pull it all off."